Memorial Day weekend has always been  one of my favorite holidays.   When I was a child in Vermont it was the time when we could begin to  plant our garden with reasonable expectation that we would have no frost or snow until the next fall.   Although I live in California now and can plant all year round,   I still think of Memorial Day weekend as a time for getting busy in the garden.   Our neighbor down the road from my mother's house in Vermont will plant some corn using his horse and an antique seeder..and my mother will  plant  petunias  in her barrels beside the house.
Memorial Day was  always the time to take a drive to our grandparents' farm in Shoreham, Vermont to pick lilacs and deliver them to the small country  cemetery where our forebears are buried.   Driving to visit the East Shoreham Cemetery has become a family tradition for my own children when they go to Vermont.   We have  enjoyed summer  picnics there,  hearing  the stories  that my father would recall about the days when all the neighbors, now buried in that place, knew each other well.   My dad helped take care of that cemetery,  just up the road from the farm where he grew up, and later brought my mother to begin their family.   In 2005 on Memorial Day weekend we buried my father  there too,  near his parents, grandparents and the neighbors whose stories we had heard so many times.  Each Memorial Day I wish we lived closer, so we could pick the lilacs and decorate the stones in the East Shoreham Cemetery like we used to do.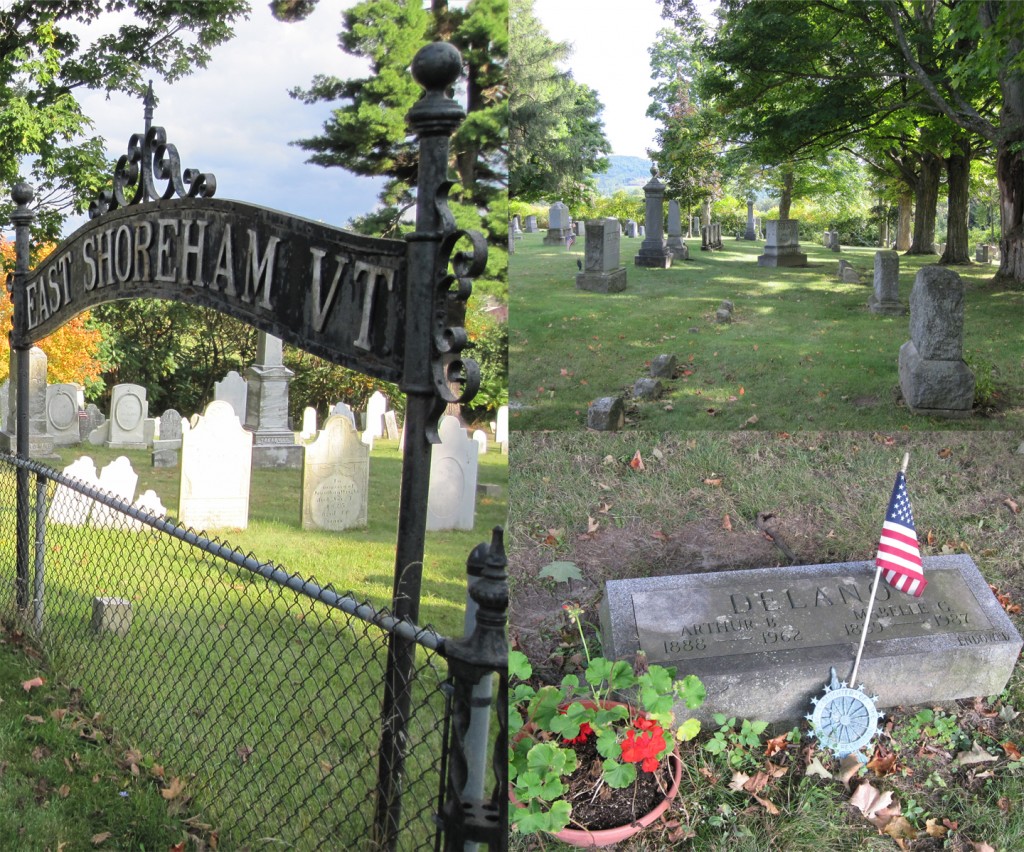 Memorial weekend in 1977 was the time when I was packing my car to move out to California for graduate school after a particularly long and snowy  winter.    Just as the weather was turning warm and sunny in Vermont, my younger brother and  I drove all the way across the United States to learn  that California has "June Gloom" instead of the warm sunshine we had anticipated.   Expecting to return to Vermont, I didn't realize at the time that many Memorial Days would pass before I would be back in my home state once again  for that special weekend.
For Vermonters, Memorial Day weekend marks the beginning of summer.    It's a great time to visit the state, as craftsmen and artisans hold the semiannual Open Studio Weekend.   Signs point the way to wonderful workshops and home galleries,  where artists,  potters, jewelry makers, woodworkers and makers of the beautiful crafts  made in Vermont offer to meet visitors on this special weekend.  School will be out in a few weeks and the delicious anticipation of warm sunshine and wild strawberries is in the air!
This holiday used to be called "Decoration Day" because it was a day of remembrance for those who died in service to our country and the graves of those who served would be decorated with American flags.    The little country cemeteries in Vermont are freshly mowed,  and brand new American flags  flutter in the breeze.    Gravestones  dating  back to the American Revolution,  the War of 1812, and the Civil War are decorated, as well as graves from the  more recent wars.   Granite and marble quarries and monuments are a major industry in Vermont, and  the cemeteries themselves are like special galleries of historical art,  places of pride and incredible beauty.  Towns in Vermont  have parades down main streets with high school bands playing patriotic marches,  ending at a stone war memorial in the center of town where speeches will be made and wreaths will be placed.
A few years ago a group of friends from our church choir traveled to France to visit the Normandy American Cemetery and Memorial near Omaha Beach,   where American soldiers who died in Europe during World War II are honored.
Even though Memorial Day  has become a joyful  holiday celebrated with family reunions,  street fairs and town festivals across the nation,  it's important to remember how it began and the reason that we celebrate on this day.  We have many more heroes  to honor now who have lost their lives defending our freedom in recent wars.   Young men and women continue to lose their lives in service to our nation every day.   Last year a young cousin, an Army Ranger at age 22, Sgt. Tyler Holtz  lost his life in combat in Afghanistan during his fourth tour of duty.   Many friends and family members attended the memorial at Rosecrans National Cemetery in San Diego  where the reality of heroism and the price of freedom was made crystal clear to all in attendance.
In this spirit,  I'll leave you  with  a musical tribute to honor all those who have died and all who continue to serve.   The singers are St. Timothy's Choir whom I have had the honor of directing since 1987…the very friends who  traveled to France together to visit Omaha Beach in 2009.   The band is the Coastal Communities Concert Band, of which I am proud to be a member, performing at the Center for the Arts in Escondido, Ca. in 2010, directed by Dr. Robert Fleming.   This is "Hymn to the Fallen" from Saving Private Ryan by John Williams.