This morning I decided to drive up to Fallbrook and check out the 2012 Avocado Festival.    Last year we had a booth to introduce California Avocados Direct, but this year I wanted to  soak up the festivities as a visitor.   I parked at a beautiful new school with one of the most amazing views in the area.  A shuttle bus was waiting and delivered me directly to one end of the street where the festival was already in full swing by 11:30 am. The Fallbrook  Avocado Festival  attracts 60,000 people or more on a Sunday in April each year.   Large family groups,  older couples,  people with strollers and dogs on leashes…it was hard to navigate the street at times, even on foot!
The festival area covered about 4 large blocks of the city…quite a distance…and I walked the entire area three times!   In addition to the food and merchandise booths,   some of the local shops and galleries were also open.    There was a wonderful Avocado Art exhibition too!
There were some really nice paintings, sculptures and other art items in the show.   The ones I liked the most were not for sale.
The California Avocado Commission had lines of folks waiting to pick up the free magnets, avocado slicers, recipe brochures and stickers.   I had a chance to say hello to staffer Dave Cruz.
I stopped for lunch at The Wayside Cafe, relieved to sit down and have a bite to eat!  The fried avocado was available with ranch dressing or powdered sugar…so I asked to try them both!
The Wayside Cafe is a very cute and funky restaurant with friendly people and delicious food made with the freshest ingredients.    I'll be going back to try  more of their menu items!  Today I  bought an Avocado Brownie, frosted with avocado creme:  avocado, powdered sugar and cream.  I delivered it to Dave back at the California Avocado Commission booth.  Bon Appetit, Dave!
Guacamole and chips were available all along the route of the festival, as well as more unusual items like avocado ice cream, avocado milk shakes, avocado gelato and even avocado fudge!
One of the newest exhibitors this year was selling handmade furniture made from avocado wood.   This table was made from a 40 year old avocado tree! Check out Woodwaves Inc. in Murrieta, Ca.
I brought home some more treasures too:  a beautiful antique Franciscan plate from "The Broken Chair" shop,  a bathing suit cover-up,   and a really fun rustic sign by Julio Wahl Weathered Signs in Thousand Oaks, Ca.     I even found a nice ceramic hen (yes a huge chicken to carry around all afternoon!) in a very nice shop called "A Few Of Our Favorite Things".   The day at the Avocado Festival in Fallbrook  was a winner!   Lots of exercise,  good food,  great shopping!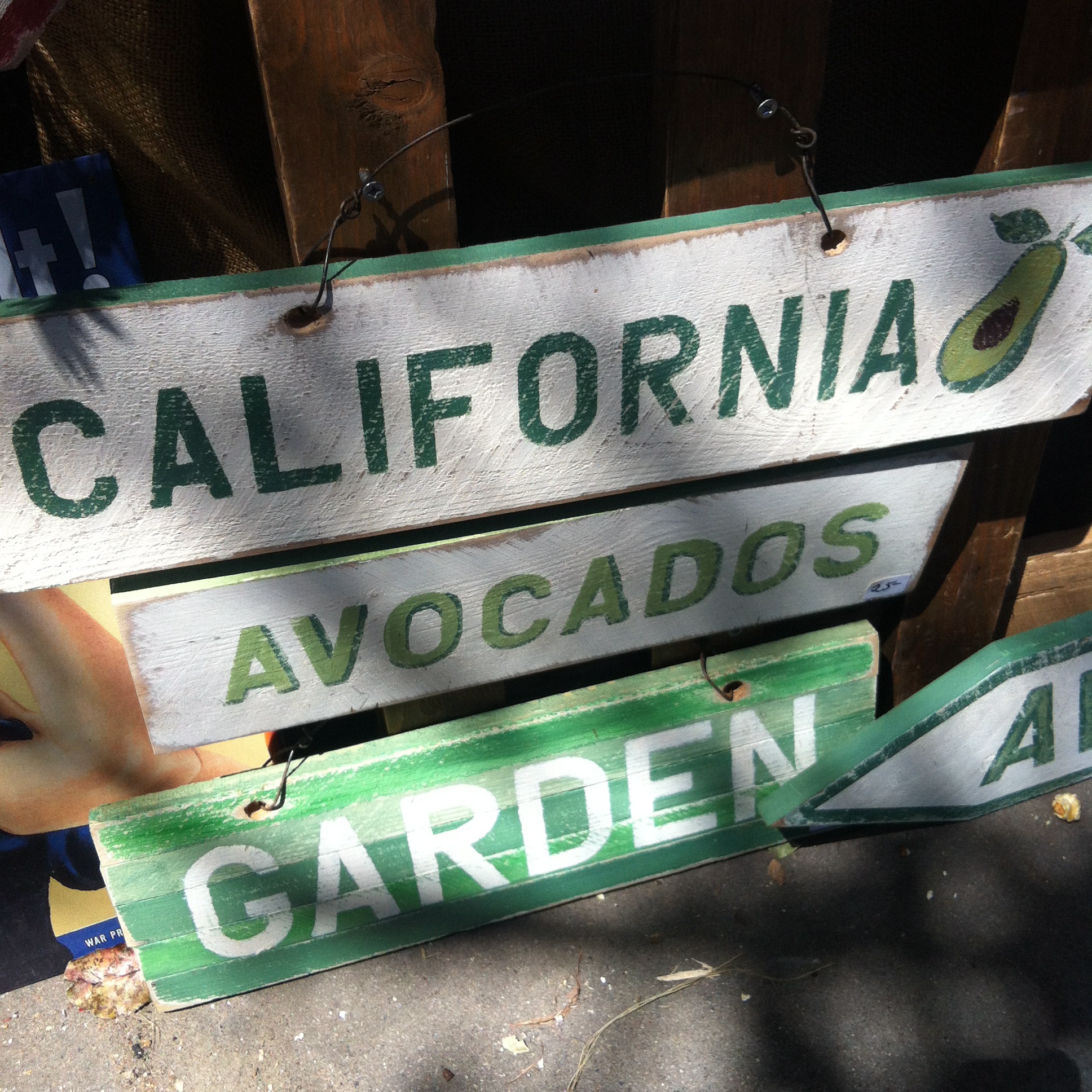 Fallbrook, California is a beautiful place to visit any time of year.   The name "Avocado Capital of the World" might be an exaggeration, but their other name "The Friendly Village"  is definitely true!  If you don't like crowds,  find another time to visit Fallbrook,  as several of the shops and restaurants carry avocado items all the time.    If you want delicious premium  fresh avocados and can't come to Southern California,  be sure to visit California Avocados Direct for a monthly subscription to our family farm-grown fruit!