This is a great week for sandwiches.  In fact,  it's a great month for sandwiches!  August is national sandwich month…why?    August is the month when cooks are looking for new ideas for picnics and for back-to-school. (If you're interested in the history behind National Sandwich Month, click here.)  I agree that August is as good a time as any for new sandwich ideas, so today I'm sharing an idea that's new in our house.   Instead of using plain lettuce in a sandwich,  choose an assortment of healthy organic baby greens!  They're pretty, they're fun, and they're delicious too!
Remember those greens that OrganicGirl   sent me earlier this week?
Organic Girls' Five Happiness tasty salad  has a variety of organic baby greens in the mix.  I had lots of fun sorting through the pretty shapes and colors in the package.  You'd think I still had young children in the house…alas, it's just me!  Can you pick out which greens these are?  Here are the choices:  baby bok choy leaves, baby red chard, tango, mizuna, baby arugula, baby spinach, baby green chard, baby green romaine, baby green oakleaf lettuce… ingredients may vary by season.
I started with a piece of ciabatta bread, sliced open for the sandwich.  Next comes Cabot Seriously Sharp Cheddar Cheese.…sliced and just slightly melted. (place the slices on a plate, then melt in the microwave for about 15 seconds)  On top of the cheese, layer some delicious  thin-sliced salami with those lovely greens.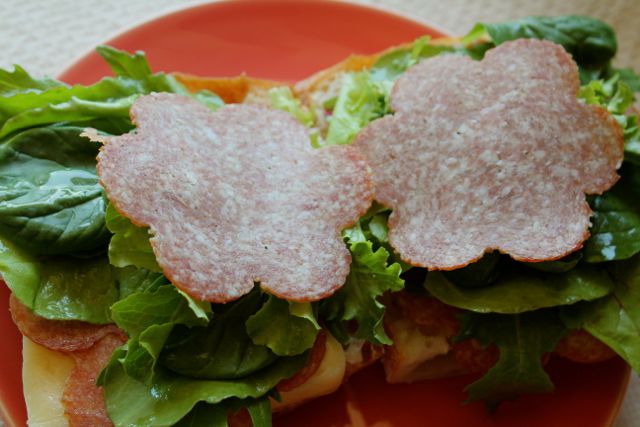 Piles of  baby greens…and all that extra nutrition…plus the earthy flavors of each special leaf…you hardly need the salami… creamy melted cheddar with those crunchy greens on the soft ciabatta bread would be enough for a perfect sandwich! No mayonnaise needed…although you might like a little dijon mustard on yours. And a slice of California avocado, of course.
National Sandwich Month is the perfect time to try using organic baby greens in sandwiches, don't you think?   Thank you, OrganicGirl Good Clean Greens for sending me the Five Happiness tasty salad to try!
Don't miss the salad I made with Organic Girl Five Happiness greens!  Pomegranate Balsamic Shrimp Salad with California Avocado!