A big box arrived today from Organic Girl® Good Clean Greens!  Inside?  Two chilled containers of Five Happiness Tasty Salad!  I couldn't be more excited to try a new salad mix, because this one includes baby bok choy leaves, along with baby red chard, tango, mizuna, baby arugula, baby spinach, baby green chard, baby green romaine, and baby green oakleaf lettuce.  What to make?  The name "Five Happiness" made me think of five yummy shrimp on top...so that's what we're having for dinner:  Shrimp Salad!  To be exact, Pomegranate Balsamic Shrimp on top of Five Happiness Tasty Salad, dressed with a pomegranate balsamic vinaigrette.   Does that sound good to you?
First the greens.  They're already washed 3 times, so I didn't need wash them, but I do like to freshen them up in the salad spinner with a quick rinse.  Notice the clam shell packaging?  It's 100% recycled plastic.  AND the greens are organic.  Easy to feel good about this salad!
Next the shrimp…1 pound of frozen raw shrimp that have been shelled and cleaned…tails on.  Mix with 2 Tablespoons olive oil and 1 teaspoon of minced garlic.  Let them marinate while you make the dressing.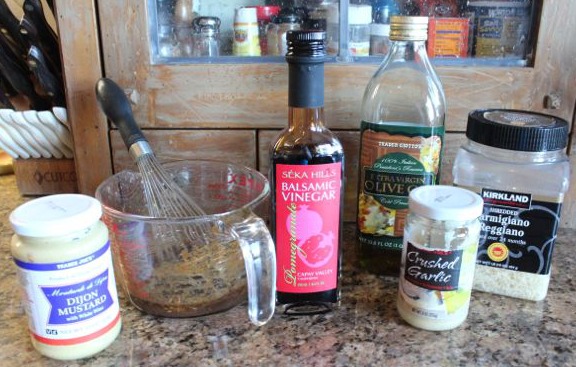 Use 6 tablespoons of extra virgin olive oil, 2 tablespoons pomegranate balsamic vinegar, 2 teaspoon minced garlic, 1 teaspoon dijon mustard, and 1 tablespoon grated parmesan, with salt and pepper to taste. Whisk it together.  This makes about 1/2 cup of dressing.
 Now put 2 tablespoons of butter in a skillet, heat it up and add the marinated shrimp.  Stir them around so they begin to turn pink.  Then add 1 tablespoon of the pomegranate balsamic vinegar and stir.  Add 1 more tablespoon of the balsamic vinegar.  Keep stirring so the shrimp are all coated.  If you need one more tablespoon of balsamic, go ahead!
This is the pomegranate balsamic vinegar I used.  I actually won this in a Pinterest contest sponsored by Sunset magazine…what a surprise!   See how nicely it coats the shrimp as they're cooking?  Yummy. If you don't have special balsamic vinegar, you can use regular balsamic mixed with a little pomegranate juice.   Don't overcook the shrimp…just nicely done.  Turn off the heat and wait until you're ready to eat.  In our house, that could be a while, as The Farmer often works on the ranch during the cool evening.   With this dish, you can make the salads one at a time or put it together in a grand presentation.  Tonight  we did them one at a time.
®
Toss the greens with the dressing.  If the dressing is too thick, add a little water and whisk it again.   Put your dressed greens onto a pretty plate,  add the shrimp and some beautiful California avocado. Sprinkle with grated parmesan if you like!
These organic baby  greens are grown in the Salinas Valley of California.  Check out OrganicGirl®  and their other products here.   This truly is a tasty salad, just as the name suggests.  The greens offer substantial texture and flavor,  a bit  different than the plain lettuce salads we usually serve.  Look for them in the produce department of your grocery store.  Everyone loved the pomegranate balsamic flavor of the shrimp, paired with the vinaigrette dressing.
I was not compensated for this post, but Organic Girl provided two clamshells of Five Happiness Tasty Salad for me to try.  All opinions are my own.