Whenever the subject of Bacon avocados comes up  the first question is always "Does a Bacon avocado taste like bacon?"
Bacon avocados are named for Mr. James Bacon, who hybridized them in 1954.   This year is the 60th birthday of the Bacon avocado!  That's plenty of reason to celebrate with a big bowl of guacamole made with Bacon avocados!
Bacon avocado trees are found as far north as the Bay Area of California because this variety of avocado tree can tolerate cooler weather.  According to Gary Bender of UC Cooperative Extension,
"Bacon is mostly Mexican  with even more cold tolerant than Fuerte. As a rule of thumb, Hass fruit can stand temperatures as low as 29°F for four hours before showing freeze damage in the fruit, Fuerte fruit can similarly withstand temperatures to 26-27°F before showing damage, and Bacon can withstand temperatures as low as 25°F before showing fruit damage."
The Bacon variety is one of  the very first of the California avocado varieties to be harvested each year.  These California avocados are the ones to eat in November and December.   Bacons have thinner skin and are considered one of the "green skin" avocados.   They're ripe when they just "give" when gently pressed in the palm of your hand.  They do not turn black when they're ripe, so it's important to actually touch the fruit to check if they're softening.   Avocados are very hard when they are first picked from the tree, and it takes a week or more to soften up so they can be eaten.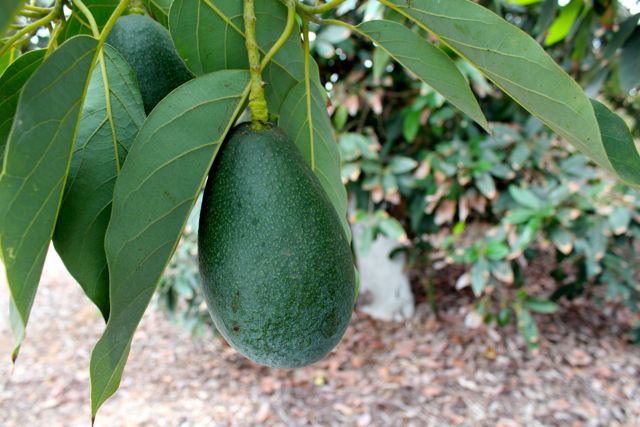 So how does a Bacon avocado taste?  I'd love for you to try some and tell me what you think.  This morning I had a conversation with The Farmer and Farmer Ben here in the kitchen.  We all agreed that Bacons are lighter than other varieties, have a very fresh and unique flavor,  and they're especially good in guacamole, salads, or smoothies.  They certainly are a very pretty fruit, wouldn't you agree?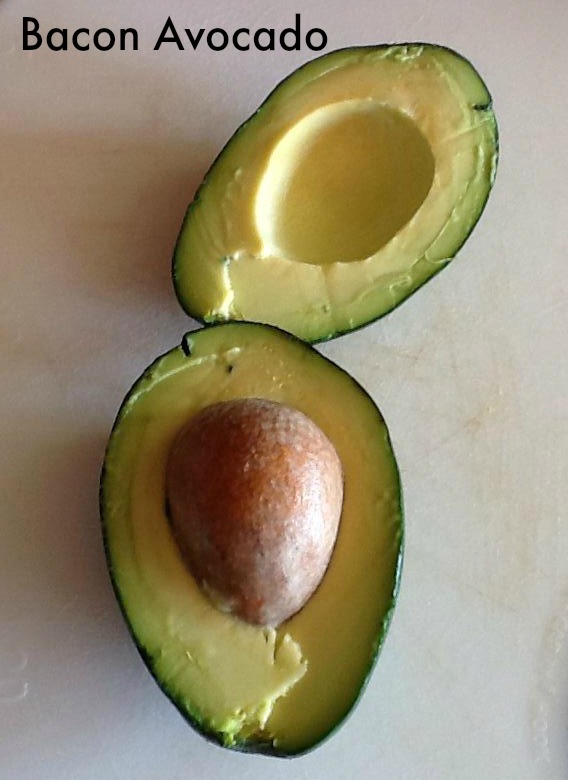 This Bacon avocado  is ready to eat.  The color of the fruit is light yellow with a little green near the skin, and the texture is light too.    As you can see, the skin is green,  peels easily, and is much thinner than Hass or Reed avocados.  Bacon avocados season lasts only a few months in November/December.
Bacon avocados are  not usually found in grocery  stores, unless you happen to live in Southern California where local produce is available at Farmers Markets or local produce stands.  If you want to try Bacon avocados,  we will  ship some to you,   direct from our farm.  We pick them from the trees and pack them right away while they're still very hard.  The avocados are nestled in wood excelsior, packed in special double boxes.  They come with a Ripening and Storage Guide that describes how to care for your fresh avocados and how to know when they're ready to eat.  This week we started offering a gift box of 7 Bacon avocados…the first time this year!
Our website California Avocados Direct is  where you can register and place your orders,  or you can just call the farm and I'll probably answer the phone!   I enjoy visiting with our customers who call to order avocados for birthday presents,  baby presents,  care packages for college students….anytime there's a loved one who loves avocados,  our fruit goes out to make them happy.  If there's ever a problem with the shipment,  I'm the one who handles that too…but it rarely happens.  We only ship within the USA because we can't control how long it will take for the perishable fruit to clear customs into other countries.
Here you can see the Bacon avocados on the left,  Hass avocados in the middle, and Fuerte avocados on the right.  Hass are easy to identify because of the bumpy skin.  Fuerte avocados are shaped like pears.
We're planning to add a variety pack (with these 3 different varieties avocados included) to our website, but instead of using the wood excelsior for these special boxes we'll nestle the avocados into this fancy foam.  Do you have a preference?…the wood excelsior or the fancy foam?
I hope you try Bacon avocados and let me know what you think!  I'd love to hear how you would describe the flavor and texture of Mr. Bacon's special avocados!
BACON-HASS-FUERTE AVOCADO GIFT BOX GIVEWAY!
Mimi Avocado is having a Blog-aversary!    On November 16th  MimiAvocado.com will be three years old!  It has been such a wonderful experience to meet new friends,  learn new skills, and travel to new places.  I appreciate each and every one of you who read my posts, and who follow me on Facebook, Twitter, Pinterest, Instagram or Google Plus.
 To celebrate I would love to give my  readers a chance win a Gift Box with  all THREE of these avocado varieties!  We have never offered this box before, so if you win, you'll  receive the VERY FIRST Bacon-Hass-Fuerte gift box! (valued at $37.94 including postage)  
We'll keep this simple.
  You must be a resident of the USA and  be over 18  to enter.   To enter, just leave one comment on this post about avocados between Nov. 11 and  midnight on Nov. 16th Pacific Standard Time.    The winner will be chosen from a random drawing.   I'll notify the winner on Nov. 17th, and I'll need a valid mailing address at that time.  If I don't hear from the winner via e-mail within 24 hours of notification, I'll draw a new name and the new winner will have 24 hours to respond.
NO PURCHASE NECESSARY TO WIN.
VOID where prohibited by law.
The Giveaway Items are provided by Mimi Avocado.  All prizes will be awarded.
Not responsible for technical failures, typographical errors, or resolving identity disputes related to the winner.
Number of eligible entries determines odds of winning.