Today was a perfect summer day in Vermont.  Not too hot, not too cold, just right.  It was the perfect day to visit the new King Arthur Flour baking center.  For years I have been buying King Arthur flour,  partly because it comes from Vermont.  As a Vermonter living in California, I like to support businesses in Vermont when I can.    The new campus in Norwich, Vermont is a dream come true for anyone who loves to bake.  Not only is there a beautiful retail store filled with any kind of tool, supply or treat that a baker could ever want. including a beautiful demonstration area, but there's a baking education center,  a commercial bakery and a lovely cafe.
One of the bonuses of going to King Arthur during July 2012 is  a special  piano in the courtyard of the new building.  Fifty pianos have been placed in the area by the Hopkins Center for the Arts  at Dartmouth College, celebrating their 50th anniversary. Each piano has been donated and decorated by an artist,  each piano has been placed where the public can visit and play,  each piano has a different personality, and each has a volunteer caretaker who will cover the instrument when it rains.  When I read about the Hands on Pianos project, I knew I had to visit at least one of those pianos  and play Scott Joplin's "Maple Leaf Rag",  because of the maple trees in Vermont.
The piano that in residence at King Arthur Flour is called "The Liberace".  When you see it, you'll know why!
As you enter the front doors of the building, this large sign proclaims the dedication of the King Arthur Flour baking center.
To the left is the retail store,  straight ahead is the cafe,  and to the right  is the bakery.   Who could resist sitting in King Arthur's chair?
I have never seen a more complete baking supply center than the new King Arthur retail store.  It's a good thing that I have no room in my luggage to carry everything home that I wanted to buy.  I did take photos of things I love….and they have a wonderful mail order catalog, so the potential for shopping still exists!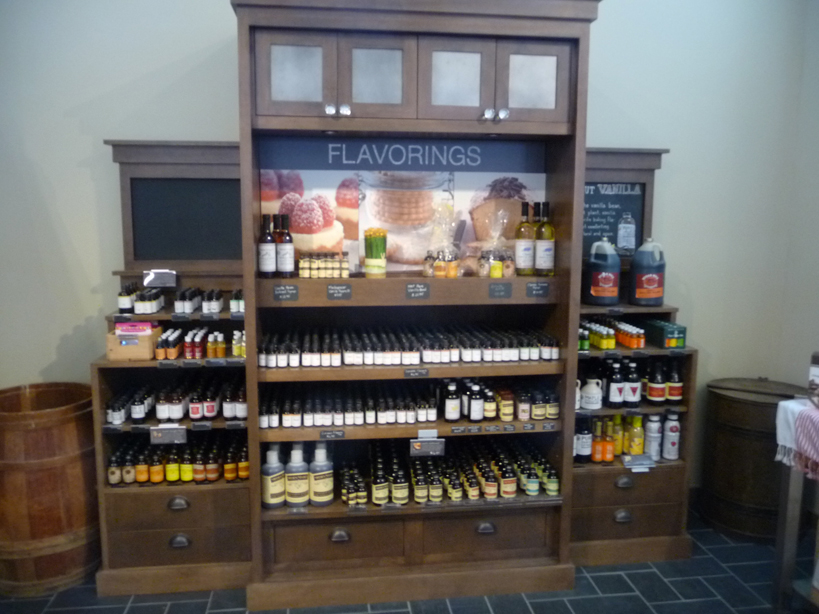 Yes, I do have a wish list!  Here are some of my picks:
Whether you are a baker or not,  the Cafe offers plenty of deliciousness.  After looking at all the wonderful ingredients and mixes in the store,  it was time to check out the baked goods!
It's fun to observe the bakery through the huge windows!
Someday I want to come back and take a class.   I'm glad they have a catalog.  There are a few things I might need!
If you travel to New England,  be sure to visit Norwich, Vermont.   There are lots of wonderful things to do and see in the area, but if you love to bake, this is heaven -on-earth!