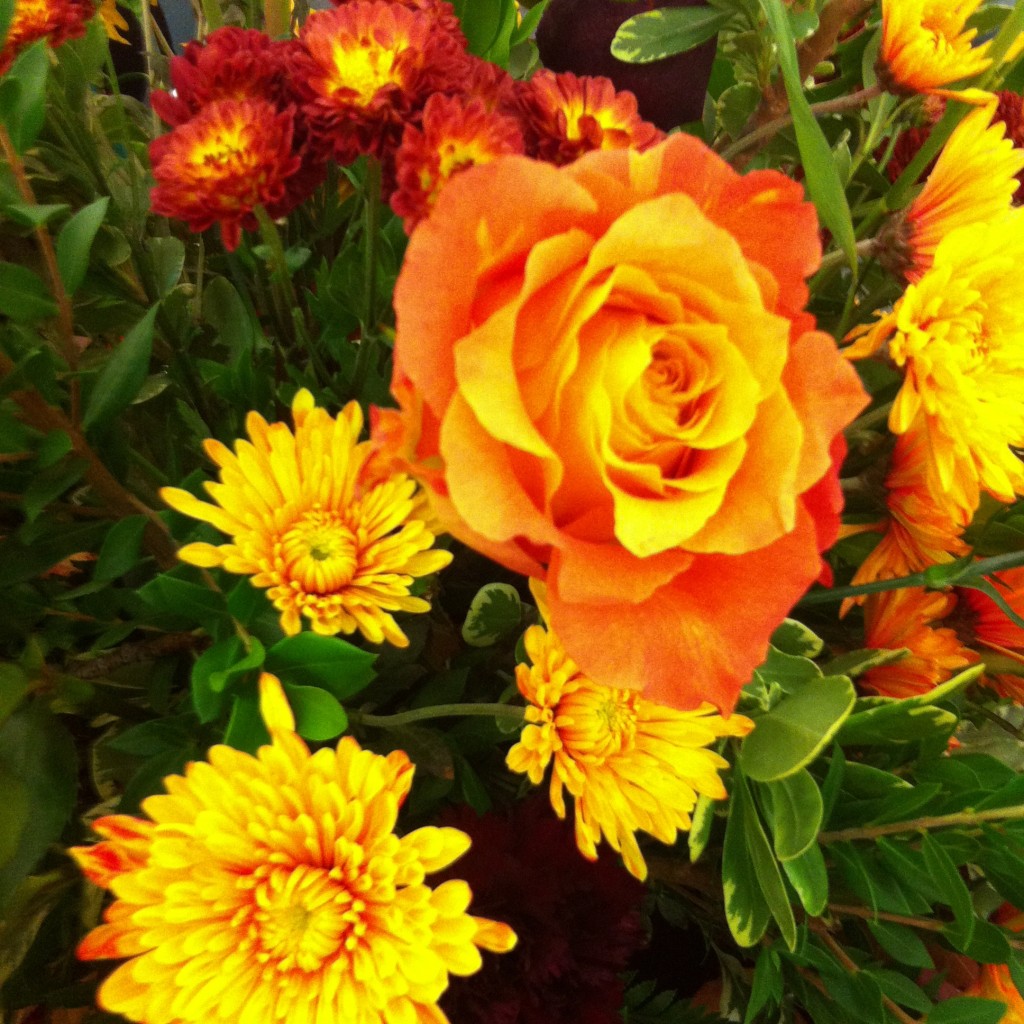 It's Thanksgiving Day, but this year I am not in the kitchen preparing the feast.  Instead, we are enjoying a relaxed morning,  watching the Macy's Parade from New York City  with coffee and breakfast treats.   It's not that we aren't celebrating…we chose to rearrange our traditions this year,  remembering the first Thanksgiving of our married life,  thirty years ago.
1982 was the first year we  did not spend  with family or friends for the traditional turkey dinner on Thanksgiving Day.  Instead, I woke in the hospital as a new mother.  We had been married in January, so it was our first Thanksgiving as a family.   The Farmer called me at 6 am to ask  "how to stuff a turkey."   He purchased the ingredients, prepared the dinner and managed to pick us up from the hospital that morning.   We toasted to our future as parents…with our new baby daughter on the table in her infant seat.
As our family grew,  Thanksgiving celebrations  changed.  When our children were very young we traveled to visit relatives.  For several years we celebrated  Thanksgiving Day on our own at Disneyland,  discovering that a delicious turkey dinner could be found in the Magic Kingdom.  Of course, we always cooked a turkey at home…we wanted to have our own fridge full of leftovers!
Last year we were honored to attend a beautiful wedding on Thanksgiving Day,  enjoying the meal and celebration of love with family and friends of the bridal couple  beginning their new life together.  As the years unfold,  each Thanksgiving Day serves to remind us of  the past and point us toward the future.  Long-standing traditions can be adjusted to accommodate present day needs,  as we welcome new friends and family into our celebrations.
One of the best new traditions of Thanksgiving for me has been the annual Interfaith Thanksgiving Service sponsored by the Escondido Clergy Association.   Every year I help organize the music, bringing together singers  from 8 different churches to lead hymns and offer anthems of praise together.    Speakers include representatives from many different faith traditions,  sharing their perspectives on the gratitude for life  that we all wish to express.   This year our service included readings, prayers, children singing and dancing, an interfaith orchestra,  community song…and that indescribably  miraculous spirit that envelops a room full of people who join together  to celebrate their differences as well as their points of agreement.
This year  Thanksgiving Day coincides with the 30th birthday of our first-born daughter.   She is spending this birthday with her grandmother in Vermont,  celebrating with beloved neighbors, aunt and uncle…gathered together in my mother's room at a convalescent hospital… thankful for healing…looking forward to going home soon.   This will be a memorable year for all of them,  even though it is very different from the years of the past.  We are grateful for technology that helps us share the special moments  via telephone,  photographs online and text messages.
Back here in  California,  our dinner was scheduled for Wednesday evening.  This year I cooked the turkey basics,  with side dishes and desserts prepared by our sons' girlfriends fiances!  This year our celebration included new joys, as  our two sons have just recently become engaged to be married.
As I was finishing up my grocery shopping this year,  I noticed bags of pearl onions…several different varieties of them.  Usually I buy frozen pearl onions and add cream sauce,  but I couldn't resist those pretty little onions, so I bought a bag of golden colored ones.   After reading about fresh pearl onions,  I decided to braise them… and added some braised carrots too!   Here is my "new" recipe, which we all enjoyed.  The onions had delicious flavor…much different than the frozen ones!   I'm sure these fresh pearl onions  will become one of our new Thanksgiving traditions too!
Braised Pearl Onions and Carrots
A tasty side dish for Thanksgiving dinner.
Ingredients
Fresh golden pearl onions

3

Tbsp.

butter

Fresh carrots

1

cup

water

1

tsp

sugar

salt

pepper
Instructions
Peel the pearl onions. This is easy to do if you blanch them for 1 minute first. (Put them into boiling water for one minute, then cut of the ends and squeeze gently to remove the peel.)

In a small skillet, saute the onions in butter until they begin to brown. Cover them with water, then simmer with a lid on the pan for a few minutes until the onions are tender. Remove the lid from the pan, add sugar to the water and let the liquid boil away. When the onions are carmelized, remove them from the pan and set aside.

Peel and cut several carrots into rounds. Saute them in the skillet where the onions were cooking, then add a little water to steam the carrots until just tender. Let the water reduce and saute until the carrots begin to carmelize.

Combine the onion and carrots. Season with salt and pepper.