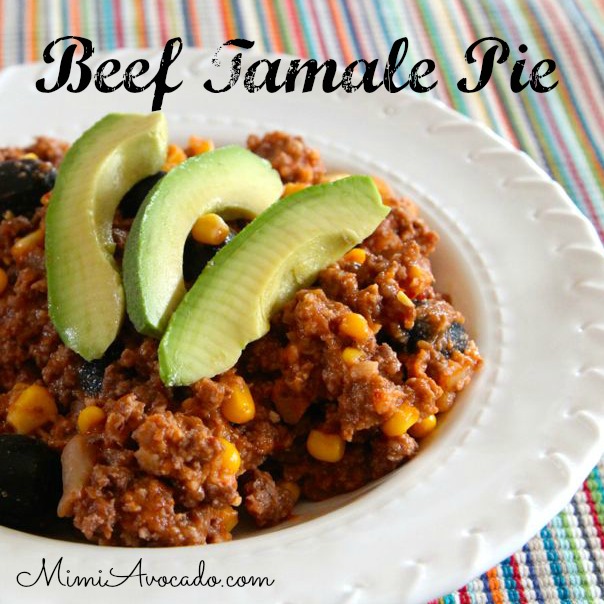 Tamale Pie is one of our go-to quick and easy family meals.  My mother-in-law made it when she was raising her children, and gave me the recipe when I married her son.
It's so easy: just brown 2 lbs.ground beef and  a chopped onion, add several tamales (I used 3) and chop them up into the meat.   Then put one can tomato sauce, one can of drained sweet corn, and one can of drained ripe olives into the pot and heat until bubbly.  If you like it spicier, use more tamales!
I used Del Real Foods'  Beef Tamales  for this batch of Tamale Pie. The flavors in the tamales provide the flavor for the other ingredients, so choose tamales  that have flavors you enjoy.   If you like spicy,  choose spicy  tamales.  The Del Real tamales are a little spicier than the tamales we usually buy for tamale pie.  We all agreed that this tamale pie was really good!   It's almost like chile, but with corn masa, sweet corn and ripe olives.   Perfect for a quick supper!  Top with avocados, of course!
Stuffed Avocado
If you want to get fancy, remove the skin and seed from a perfectly ripened California avocado and scoop some of that chunky tamale pie into the center of the avocado.  Place it on some fresh greens and garnish with fresh cilantro!  I love the creamy, cool avocado with that spicy tamale pie!  Add a little grated cheese on top, if you like!
We love making  Tamale Pie during football season.  Sometimes we use it  as a hot dip with tortilla chips, or a filling for burritos.
Del Real Foods Giveaway
Just in time for Cinco de Mayo, you can win a Party Box from Del Real Foods!  They'll send you some great Mexican foods featuring favorites from Del Real: carnitas, tamales, pork al poster pupusas and their newest addition, the Al Pastor Taco Kit.  Plus a party cooler and a picnic blanket too!   Just leave a comment at the bottom of  this blog post. I'd love to hear about your family's favorite easy meal.
I can highly recommend Del Real Foods' Mexican dishes.   Last week they sent me five different products to try, and we have really enjoyed all of them.  Del Real uses the freshest ingredients, and most are locally sourced in the Mira Loma area of California where Del Real is based.  Gluten free and trans fat free, these authentic Mexican dishes are cooked over an open kettle!  
Have you seen the Del Real products in stores in your area?  Here in San Diego I've found them in the refrigerated aisle (near the meats) at Vons, Ralphs, Costco, and Major Market in Escondido.  Get some of their rice and beans to go with the meats…you'll have the perfect party for Cinco de Mayo!
As much as I love to cook, there are many nights when I want something easy.   It's so nice to have these heat-and-serve dishes to use in my own recipes,  or just warm up and enjoy.  Add some fresh avocado  and dinner is ready!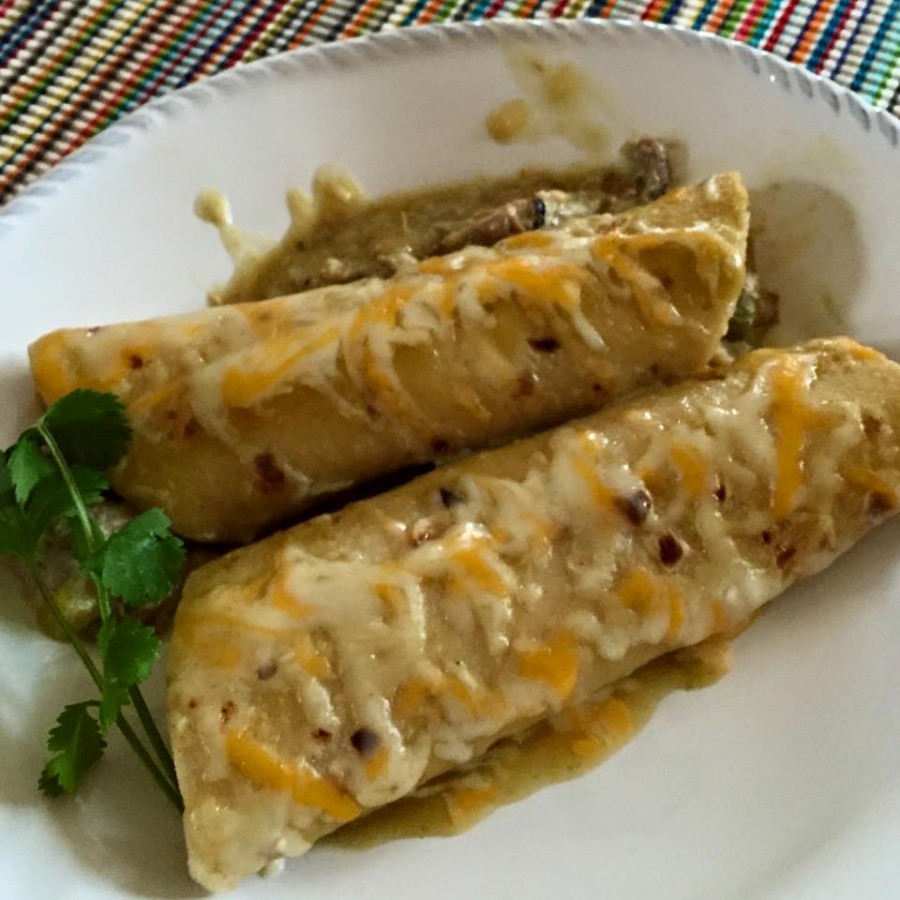 Last week I made Enchiladas Suizas using the recipe on the package of Del Real's  Chile Verde…and we'll be making those again real soon!  So good!
For this giveaway,  leave a comment on this post before midnight on May 3rd.  I'll announce the winner on Monday May 4th.  You must be over 18 and a US resident to win.  The prizes will be provided by Del Real Foods.  If you are the winner I 'll contact you via e-mail and will need your mailing address.  If I don't hear from you in 24 hours, I'll choose another winner via Random.org. All prizes will be awarded.  Void where prohibited.
Disclosure:  Del Real Foods sent me five of their products to sample, plus a picnic cooler and picnic blanket.  I agreed to host a giveaway for my readers.  I was not compensated for writing the post, and all opinions are mine.  I only  share the products that I really like with you.