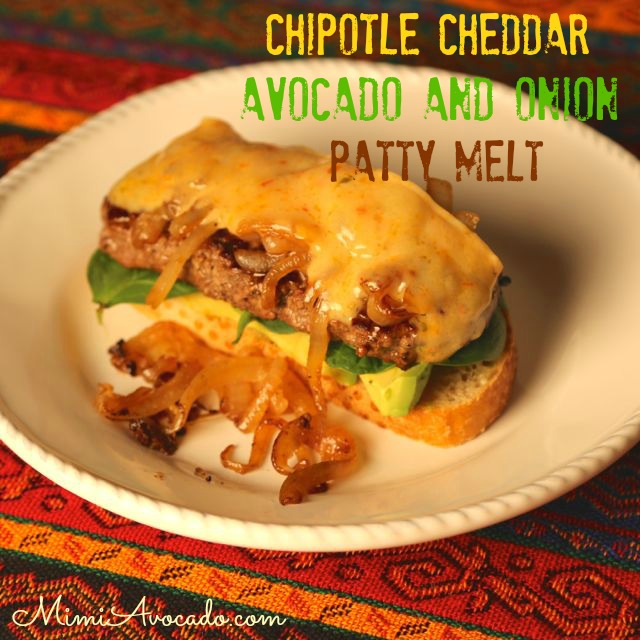 I was thinking about our dating days this week, after our 35th Valentine's Day together.   We used to go out to Bob's Big Boy when we were dating, and one of our favorite meals was the Patty Melt.  The nice thing about a patty melt is the lack of the big bun,  so a little extra cheese is easily justifiable.
How to Make a Chipotle, Avocado, and Onion Patty Melt
Start with good beef,  lean but not the very leanest.  This is ground round, with 15% fat.  Nice and flavorful when there's a little fat!  I shaped the patties to fit perfectly on a piece of sourdough toast.  Season with salt and pepper.
While the burgers are cooking,  cut some good cheddar cheese and perfectly ripe avocado.  Tonight I used Cabot Chipotle Cheddar to add a little kick!  Those slices are just the right size for my custom-shaped patties.
Lightly toast the sourdough bread slices.  Sourdough can get dry and crumbly if you toast it until it is crispy, so take it out of the toaster before it's too brown.
These slices came from a huge Fuerte avocado,  perfectly ready to eat,  and easy to peel.  Never scoop a Fuerte avocado!   When the avocado is ready, cut it into quarters and pull the skin off of the flesh.  Then cut into perfect slices.   The avocado has lots of creamy flavor,  so mayonnaise isn't needed.  I love the idea of using avocado instead of other condiments.
Now stack some fresh greens on top of that luscious  avocado.  Spinach leaves look so pretty!
Did I forget to mention the caramelized onions?    Slice a yellow onion (or you can use a sweet onion)  and sauté slowly in butter or olive oil.  Stir those onion slices and be very patient as they gradually become more pliable and turn a gorgeous golden brown.
Stack those golden onions on top of the burgers.  Then put a generous slice of cheese on top of each one.  Turn down the heat and cover the pan,  waiting for the cheese to melt and ooze all over those yummy onions.
There you have it.  Tonight's  perfect supper.  Add some mustard, ketchup, or mayonnaise if you must – I'm happy to enjoy mine just like this!   Eat it with a fork and knife, tasting those caramelized onions next to the spinach and avocado.  Then try a taste of the beef and cheese.  Then mix and match those flavors.  Small bites….no rushing.
Spring Has Arrived at the Ranch
February is one of my favorite months, when the spring flowers begin to bloom and the Fuerte avocados are in season.  Have you found Fuerte avocados in your farmers' markets?  The season is almost over now.  We still have some here on the ranch, even after all those heavy winds that came with the rains a few weeks ago.  The only good thing about Fuerte season ending?   Hass season begins!    We'll start harvesting those yummy Hass  very soon!
Our Super Weekend!
This year we spent Super Bowl weekend at a really SUPER event:  our niece's wedding in Minnesota!  It was so much fun to spend time with family, enjoying the cold and the snow for a few days.  When we returned to San Diego it was time for Valentine's Day!
Be My Valentine

Here is my 2016 Valentine Avocado Toast!   Peel half of an avocado and carefully remove the seed,  and then slice through the entire half.  Use your heart cookie cutter to expand the hold left by the seed.  With the remaining piece of avocado (the one that was next to the skin),  cut a heart.   Mash the leftover pieces and spread on sourdough toast.  Position the large slice on top of the mashed avocado. Sprinkle Cabot Powdered Cheddar Shake into the heart-shaped cut-out,  and onto the plate. Place the avocado heart on top of the cheese.  Happy Valentine's Day!
The rains that came in January helped the wild flowers to start blooming!  I bought wild flower seeds at Lowe's and tossed them on the edges of the grove near the house last year.  This last week we have had sunshine and temperatures in the 80's so the flowers have been blooming.   Here's hoping for more rain!