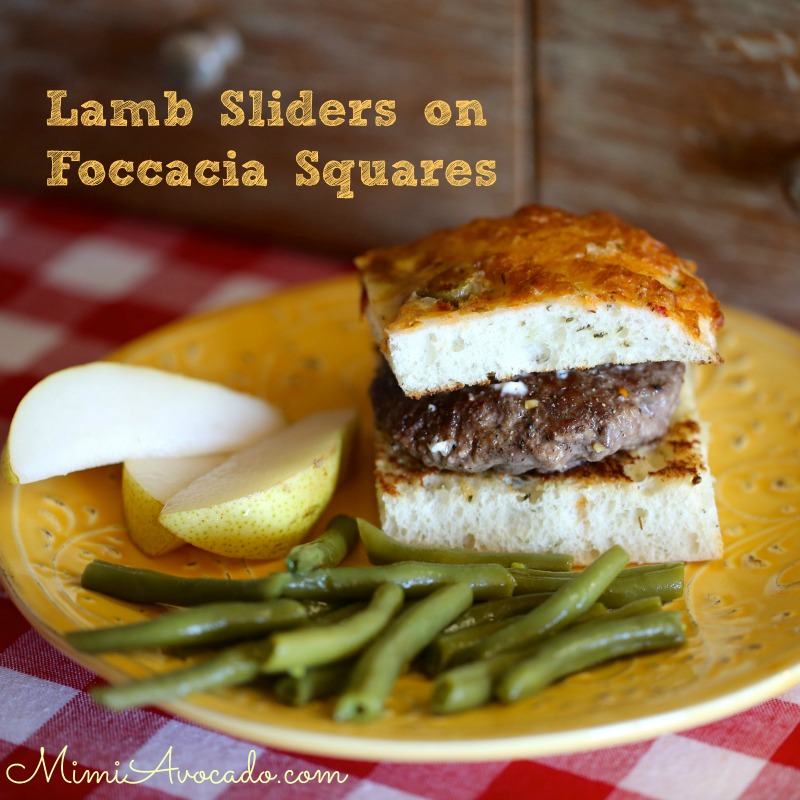 This morning I stopped at Major Market where I bought the ground lamb last week for the Lamb Sliders seasoned with Hatch Chile,  and they had no ground lamb in their meat case.  I rarely do this, but I actually went to the meat cutter and asked for ground lamb!   He told me to wait about 20 mintues, and when I came back there were several packages of ground lamb plus a beautiful lamb sirloin roast!   (Of course I bought that roast too!  Turns out the ground lamb was made from another piece of that same leg of lamb.)
Next I headed over to Trader Joe's for more of those cute little Mini Hamburger Buns  with the sesame seeds on top.  Alas, they were out of them!  Not to worry,  I glanced at a nearby display and found a large square of Tomato and Olive Foccacia Bread.  In my minds eye I could see that large square cut up into smaller squares, just the right size for Lamb Sliders!
With 1 lb. of ground lamb, I formed five nice sized patties with my hands, and put them into a skillet to brown.  I didn't mix anything into the meat this time, but seasoned them with garlic powder, salt, and pepper.
I sliced off a piece of the Tomato and Olive Foccacia bread about 4 inches wide, and then cut the piece into squares.   I sliced each piece through the middle to to make a slider bun, and placed the cut side down on a griddle with a little butter for browning.
While the sliders were still juicy but cooked through,  I placed one on the bottom half of a foccacia "bun", and spread just a little mayonnaise on the top half of the bun.

We had some leftover cooked green beans in the fridge so I sprinkled those beans with seasoned rice vinegar for a quick Green Bean Salad.  Fresh ripe Bartlett pears from my IFBC tour to a pear orchard were chilled in the fridge, and topped off a tasty lunch for The Farmer and me!  (Stay tuned — I"ll be telling you about that tour to see pears and endive soon!)