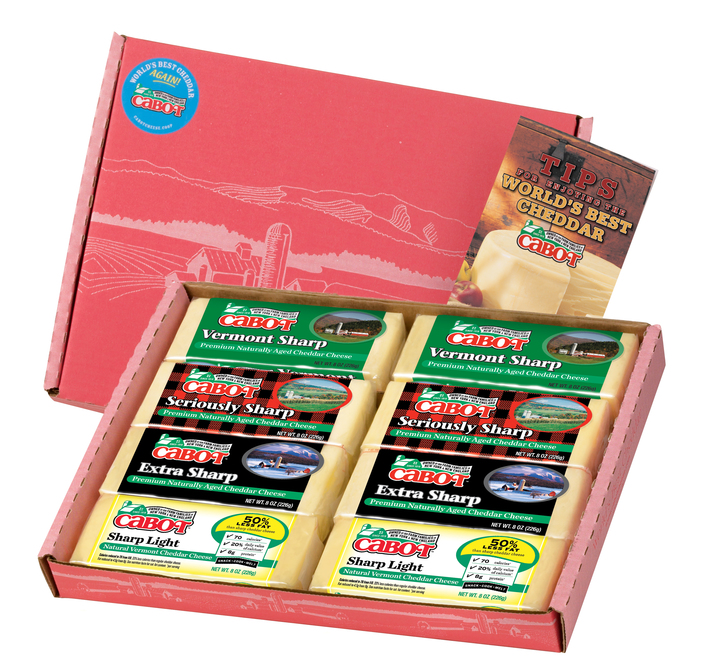 Today I have an exciting giveaway for my readers!   A gift box of Cabot Cheese worth $25!   Along with the cheese you'll get a subscription to Chop Chop magazine too!   I remember learning to make grilled cheese sandwiches with Cabot cheddar cheese when I was growing up in Vermont.  I know we would have loved to receive a magazine with easy recipes and good ideas for healthy foods we could make ourselves.
Chop Chop magazine is published quarterly for families who are interested in nutritious, tasty, ethnically diverse and inexpensive recipes that the whole family can make.  There are games and puzzles for kids,  fun food facts, and interviews with healthy heroes like kid chefs, pro athletes and White House chefs.  You can send the magazine to your nieces, nephews,  grandchildren or keep it in your own home to inspire great memories in your kitchen!  Chop Chop is the winner of the prestigious 2013 James Beard Foundation Award for Publication of the Year,
Enter the Giveaway for Cabot Cheese and Chop Chop Magazine!
All you have to do is leave a comment about cooking with children  on this blog post and you'll be entered to win! Do you have memories of cooking when you were a child?  How do you involve your children or grandchildren in preparing healthy foods? What was one of the first things you learned to cook?
If you are the winner you will get a subscription to Chop Chop and a gift box of Cabot Cheese valued at $25.  You must be a resident of the USA and over 18 years of age to be eligible to win. Enter before midnight on October 29, 2016  and I'll contact the winner on October 30, 2016. Winner will be chosen in a random drawing using random.org. Void where prohibited. If I don't hear from the winner in 24 hours I'll choose another winner. All prizes will be awarded. Prizes are provided by Cabot Creamery Cooperative  and Chop Chop magazine.
The current issue of Chop Chop is all about Breakfast for Dinner!  Lots of  fun ideas for making toast into a special meal!  I hope you'll enter to win!