Have you seen the Food Network show where chefs are given ingredients that are not related to each other, and they must come up with a dish including those ingredients?   I never thought I'd have a chance to try it out for myself!  What a fun food adventure it was!
We were told that  Melissa's Produce would send  a box of goodies as part of the San Diego Food Bloggers Challenge,  organized by Barbara of Barbara Cooks.   The challenge was to make something using 3-4 of the Melissa's items, plus any 2-3 items of our choice.    It was exciting to think about receiving a surprise box from Melissa's Produce…what would they send?
The mystery box arrived in the mail containing a variety of wonderful ingredients! Fresh sliced leeks, baby brussels sprouts, baby beets, steamed fava beans, baby Dutch yellow potatoes, organic red quinoa,  Ojai pixie tangerines, and dried  Chanterelle mushrooms.
I happen to love brussels sprouts, so I knew I wanted to use those in my recipe.  The leeks were so pretty and all ready  prepped straight out of the bag.  I had never tried Chanterelle mushrooms, so I followed the instructions and soaked them in water.
I started with just a little bacon fat in a stock pot and  sautéed the leeks and brussels sprouts.  So happy and green! Like St. Patrick's Day in a pot!  Some chopped garlic and thyme got the party started,  and soon the baby Dutch yellow potatoes hopped into the pot, each one washed and cut in half.
 Next came the chicken broth, with some time to simmer.
Meanwhile, those Chanterelle mushrooms were soaking in  warm water.  I scooped out some of the brussels sprouts, potatoes and broth, added the mushrooms and put them all into the Vitamix.   They all took a spin together   before I poured them back into the pot to become the  perfect thickener for the chowder without using any additional ingredients.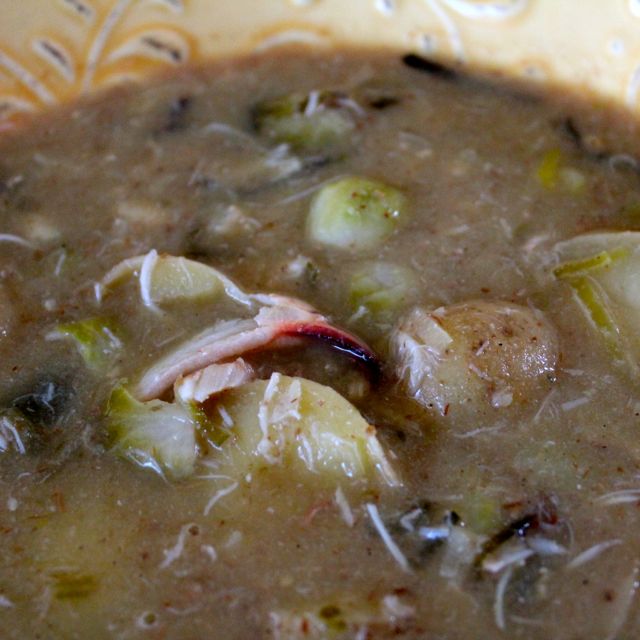 I let the chowder simmer for about 30 minutes and then added a can of crab meat and the package of fava beans.  Simmered another 15 minutes and the masterpiece was finished!
  Mimi Avocado's Special Crab Chowder is born!  I never would have thought to try leeks and brussels sprouts in a chowder,  but they were perfect!  Those baby brussels sprouts were so sweet!  Fava beans paired perfectly with the crabmeat.   Beautiful baby potatoes…the ultimate comfort food!
One more thing to make this the perfect crab chowder:  sliced Fuerte avocado!
Hearty hot crab chowder made with leeks, baby brussels sprouts,  baby potatoes, fava beans and chanterelle mushrooms…topped with cool, creamy avocado slices…
What a pleasure to work with such fresh ingredients, all ready to use!  Thank you to Melissa's Produce for sending me the wonderful ingredients!   All the work of cleaning and chopping the leeks was done…just open the package and into the pot they go! Minimal prep work to do on the brussels sprouts and potatoes.  Fava beans were all ready…just drain and add to the soup!
Mimi Avocado's Amazing Crab Chowder
Ingredients:
1 Tablespoon bacon fat
1 clamshell container  Melissa's Baby Brussels Sprouts
1 package Melissa's Clean and Sliced Leeks
1 teaspoon  ground thyme
2 teaspoons chopped garlic
1.5 lbs Melissa's Baby Dutch Yellow Potatoes
2  32 oz. containers of  chicken broth
1 oz. package Melissa's Dried Chanterelle Mushrooms,  soaked 30 minutes in lukewarm water
1 8.8 oz packaged Melissa's Shelled and Steamed Fava Beans
16 oz crab meat
1 ripe  California avocado
Salt and Pepper
Directions:
Place the dried Chanterelle mushrooms into lukewarm water for 30 minutes.
Slice off the dark ends of the brussels sprouts, and trim off any dark leaves.  Cut each of the brussels sprouts in half.  In a stock pot, melt the bacon grease.   Sautee the leeks and brussels sprouts in the bacon grease.  Add chopped garlic and thyme to the pot, cook for 2-3 minutes.  Wash the baby potatoes and cut in half.  Add potatoes to the pot.   Pour in 32 oz. of chicken broth and bring to a boil.
Remove 2 cups of the vegetables and broth from the soup pot and place into a Vitamix or food processor.  Add the Chanterelle mushrooms and puree.  Pour the mushroom and vegetable puree back into the soup pot and stir. Pour in another 32 oz. of chicken broth.  Simmer for 30 minutes.
Add the crab meat and fava beans to the chowder, simmer for 15 minutes.   Serve hot, topped with fresh avocado slices.
The next day our son was home to help on the ranch,  so he tried some of the chowder for lunch.  He's been patiently waiting for the recipe ever since…in his words "Grt Soup!  Recipe?"
Many thanks to Melissa's Produce for providing us with the wonderful ingredients for this food bloggers challenge!  I was not paid to do this post, but accepted the ingredients gratefully.   All opinions are my own.