One of my favorite treats is Lobster Roll.   When I visit Vermont, I always make it a point to get lobster roll.   The grocery store near my mom's house sells a package with three little lobster rolls, and I've been known to snarf all three in the parking lot.  There's a restaurant on Lake Champlain in Burlington where I love to order lobster roll,  but you only get one on the plate with french fries and cole slaw.   I've never had my fill of lobster salad.
Imagine my excitement when I received an e-mail last week from Joe of LobsterAnywhere.com .   It began:  "Hi I came across your site on Twitter of all places! Would you be interested in trying some lobster. …"   I think I stopped breathing right then.   Lobster?  Of course!  Joe and I struck up an e-mail conversation that included a discussion of the best rolls to use for a lobster roll,  whether to get live lobsters and cook them myself, or choose the frozen lobster meat,  and of course we talked about Vermont…since that's my home state.   The next day I received an e-mail from FedEx that a package had been shipped at about 5 pm from Massachusetts and would arrive at our ranch in California the next morning!   A lobster care package was coming all the way across the country!
Sure enough, FedEx delivered the box at 10:17 am the next morning.  I couldn't wait to open the box!  The first thing I saw?  Pie!!  Two darling little pies: one apple and one blueberry.   Be still my heart,  my new friend Joe sent me pie!  Then I saw the old fashioned top-split hot dog buns …made with potato…from one of my favorite Vermont bakeries!  I dug into the box to find the lobster….and what did I see next?  Knock me over…it was clam chowder!  Frozen solid, ready to reheat…authentic New England clam chowder, one of my most favorite comfort foods.  Joe, you really outdid yourself!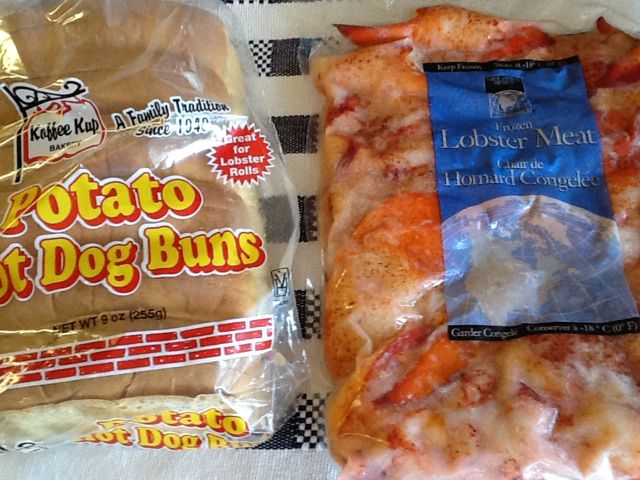 In the bottom of the box was the most amazing bag of frozen lobster I had ever seen…2 POUNDS of perfectly cooked  lobster meat,  still frozen rock hard…packed with dry ice…it just doesn't get any better than this.  All the lobster a girl could eat, plenty to share,  and it would require NO WORK at all.  Just decide what to make,  and enjoy!
I put all the goodies into the refrigerator to thaw out.   At suppertime I took out the lobster and put the bag into a huge bowl of cold water.  It took just a few minutes for the meat (all knuckles and claws)  to be ready to use.   I followed the instructions that came in the package; rinsed the meat and then transferred it to a handy OXO box.  I couldn't believe how much meat came out of that bag!  It takes 6-7 lobsters to yield that much meat!
I chopped up some celery,  chives from my garden,  added a couple of tablespoons of  Best Foods mayonnaise (same as Hellman's back east),  and drizzled some lemon juice from our lemon tree into the bowl.  Then I mixed in some of the lobster pieces that I cut into bite-sized pieces.
There was plenty of lobster…no scrimping here!  I used about a third of the package to make enough lobster salad for four heaping lobster rolls.  (As much as we miss our kids,  living in an empty nest does have it's perks once in a while!)
It's VERY  important to grill the hot dog buns on the outside in butter. Real butter.  (I use Kerrygold.)   Do not attempt to put homemade lobster salad into anything less than a butter-grilled bun.
Place a nice big piece of lettuce leaf inside the roll to protect the soft bread from the moist salad.  Now is the time to lay perfect slices of avocado on top of that lettuce leaf.  These are Reed avocados…they're in peak season right now.  Never tasted a Reed?   Here's a photo…and you can read more about them here.   They are the creamiest avocado you'll ever eat.
Pile that beautiful lobster salad generously on top of the avocado and lettuce.   I like to eat mine with a fork…first the lobster and avocado…then the lettuce with the last of the delicious lobster salad dressing….and finally that soft, fresh hot dog bun grilled in butter.   One trick:  eat the lobster salad off the top and then refill the bun.   Only in your own home can you do this!
Since I still have some lobster in the fridge (can't believe I'm saying that:  "lobster in the fridge!")  I decided to make Lobster-Avocado Toast for breakfast this morning.   Joe, you have spoiled me rotten.
  If you want some lobster in YOUR fridge,  just visit Joe's site http://www.lobsteranywhere.com and get the frozen lobster meat.   He has some really imaginative gift packages there too…what a wonderful idea to send a lobster gift AND a gift box of avocados from CaliforniaAvocadosDirect.com!
I can't wait to order some more lobster…and that clam chowder was out-of-this-world too.  Such sweet and tender clams, and sooo creamy!   I'll go on record right now: if anyone wants to send me a present for birthday or holidays,  Joe's lobster is definitely on my wish list!
I still have some lobster left…what shall I make next?
DISCLOSURE:  I was not paid to write this post.  I wasn't even asked to write this post. I just wanted to write it because I love the lobster  THAT MUCH and it was so nice of Joe to contact me out of the blue and offer me a gift.   All opinions are my own.  I wouldn't tell you I liked something if I didn't really like it.   By the way, I just sent Joe a box of avocados to try.  Hope he likes them!
Oh yeah,  I linked to OXO because they gave me the handy box at a blogger conference called "The Big Traveling Potluck".   And Kerrygold sometimes gives me cheese but I bought the butter for the lobster rolls.