This may be the very last Reed avocado of the year.  We finished harvesting this year's Reed crop today.   Now we'll be waiting until next summer to taste those huge creamy slices again.   They were just perfect with my potato patties for supper.
I returned from Idaho last week to find a big box of Idaho russet potatoes in my kitchen…a gift from the Idaho Potato Commission.  I know I have promised to tell you all about the trip…and I will…but first I need to tell you about making these potato patties.
I remember when we were growing up in Vermont, my mother would make potato patties with leftover mashed potatoes.  I happened to have a bowl of mashed potato left over from Sunday's football game, when I made potato skins with toppings at the request of The Farmer.  He asked for some "good appetizers" to enjoy while he watched the Chargers beat the Jets.  Since we had all those beautiful potatoes, I decided to make several different toppings for potato skins.   So I baked those gorgeous Idaho russet potatoes, and made the toppings while they were in the oven.  When the potatoes were done, I   cut them in half and removed some of the potato, leaving the skins to be baked once more with butter, salt, and pepper.
I rubbed butter on the skin sides and put them on a baking sheet for about 5 minutes in a 400 degree oven.  Then I turned them over,  put a little butter and seasoning into the potato and baked them on that side for another 5 minutes.
We had three different toppings:  Italian Meatball,  Chili Cheese, and Bock Wurst with Onions for a taste of Oktoberfest!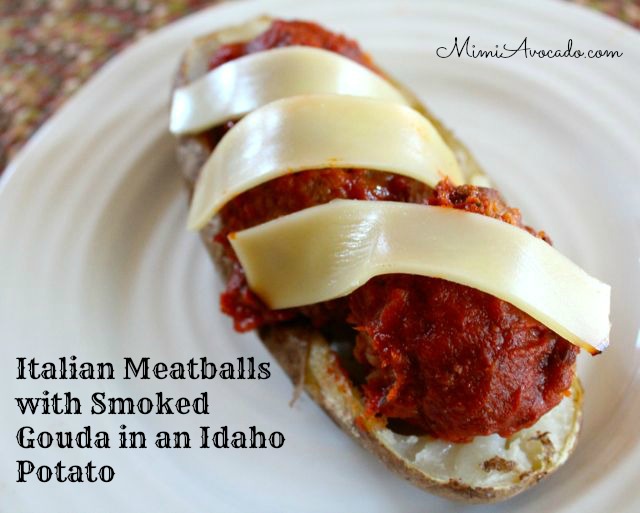 This one was tasty…savory meatballs with tomato sauce topped with smoked gouda cheese, slightly melted.
Chili without beans and smothered in melted cheese,  on top of an Idaho potato,  with California avocado!  Perfect football food!
My favorite!  Carmelized onions with pieces of  grilled German sausage.  I found some Bock Wurst,  a veal sausage with herbs that I first tasted as an exchange student in Bavaria.  Perfect on an Idaho potato skin!
We have been enjoying the leftovers this week…and we still had the mashed potato that I removed from the skins on Sunday.  Tonight for supper I mixed the mashed potato (about 4 cups)  with 1 beaten egg, 1 cup of grated cheese,  1 cup of sautéed mushrooms,  3 tablespoons chopped scallions, salt and pepper.   I made balls from the potato mixture,  gently pressed them into patties,  rolled them in flour, and sautéed them  in butter.
 Comfort food extraordinaire…
I'm working on my photos from the trip to Idaho last week.   What a beautiful place with such friendly people!  Can't wait to tell you more!
Disclosure:  I received a large box of Idaho russet potatoes from the Idaho Potato Commission after a sponsored trip to Idaho to see the Idaho potato harvest.  I was not required to write a post, was not paid to write this post,  and all opinions are mine.