Looking for some new ideas for side dishes this holiday season?  Me too!  And I have found another favorite new recipe in Rick Rodger's The Big Book of Sides: More Than 450 recipes for the Best Vegetables, Grains, Salads, Breads, Sauces, and More.  I received a copy of the book, and a bottle of Four Roses Bourbon to make a recipe to share with you.   In fact,  one of my lucky readers is going to WIN a copy of this wonderful new book!  (details later in the post)
You may remember that I tried to make this dish last weekend, but the sweet potatoes I bought were white instead of orange, so I made my own version of  the  "Steamed Boniato with Orange Mojo" recipe from  Rick Rodgers'  The Big Book of Sides instead.  This weekend I had some yams,  pears, cooked bacon, maple syrup,  pecans, and Four Roses Bourbon…so I tried this "Sweet Potato and Pear Casserole with Bourbon, Bacon, and Maple Syrup" recipe…well, my own version anyway!
The real reason I wanted to make this dish was the bourbon.   Any casserole with bourbon in it has to be good, right?  When you open the bottle and pour it into a glass it goes "good, good, good, good"….my dad used to laugh as he told us that, and to this day I think of him every time I pour from a bottle.  There was some excitement around here last week when a box arrived with a beautiful bottle of Four Roses Small Batch Kentucky Bourbon in it.  This is sipping bourbon…but wonderful to use in cooking as well.
"Four original and limited Bourbons have been expertly selected by our Master Distiller at the peak of maturation to create a perfectly balanced small batch Bourbon that rewards you with a mellow symphony of rich, spicy flavors along with sweet, fruity aromas and hints of sweet oak and caramel. Finishes soft, smooth and pleasantly long. Best enjoyed straight up, on the rocks, or with a splash."
If you like the idea of using bourbon in your holiday feasts,  check out this video of Rick Rodgers  making gravy.   Yep, you can make turkey gravy with bourbon in it!
I was intrigued to combine the  rich yams  with sweet Bosc pears, crunchy pecans, and  Vermont maple syrup….and on top of all that,  some smoked bacon!  This casserole has all the ingredients to make a new family favorite…a  lip-smacking side dish that smells like dessert when it's cooking and tastes just as good at room temperature as it does hot.
Another nice thing about this sweet potato recipe is that you can make it ahead of time, in phases, and put it together at the last minute with a quick warm-up in the oven.   Just prepare and cook the sweet potatoes and keep them in the fridge until you're ready to make the sauce and bake with the pears.  After the potatoes and pears have been baked,  you can put it all back into the fridge again.  Cook the bacon and keep it in the fridge too.  Then toast the pecans,  add them to the casserole with the bacon pieces, and slide the whole dish into the oven for about 30 minutes. Easy!
The sauce is made with unsalted butter, bourbon (or apple juice),  corn starch and maple syrup.  I didn't mind stirring it because the aroma was heavenly!  During the cooking process you baste the  sweet potatoes and pears with the syrup mixture.  Yum!
The sweet potatoes and pears are beautifully glazed with the maple syrup and bourbon.  The pecans and the bacon provide the crunch and the smoky saltiness to go with the sweets.
 Baked Yams and Pears  with Bourbon, Pecans, Bacon, and Maple Syrup
 inspired by Rick Rodgers'
 The Big Book of Sides
 "Sweet Potato and Pear Casserole with Bourbon, Bacon, and Maple Syrup"
Makes 8 Servings
Ingredients:
3 large yams, peeled and cut into 1/2 inch rounds
4 slices of bacon
2 tablespoons unsalted butter
1/2 teaspoon cornstarch
2 tablespoons bourbon, such as Four Roses, or apple juice
1/2 cup pure Vermont maple syrup
3 Bosc pears, peeled, cored and sliced
salt and ground black pepper
1/3 cup toasted chopped pecans
Directions:
1.  Preheat oven to 400 degree.
2. Boil the prepared yams in a large pot of salted water until they are just beginning to soften.  Drain and rinse the yam slices.
3.  Cook the bacon in a large skillet until it is crisp,  and remove from pan to drain on paper towels.  Use the bacon fat from the skillet to coat the inside of a shallow 13 x 9 x 2 inch baking dish.
4. Melt the butter in a small saucepan.   Mix the corn starch into the bourbon in a small dish.  Add the maple syrup and the bourbon mixture to the butter.  Cook over medium heat, stirring constantly, until the mixture thickens and begins to boil.  Remove from the heat.
5. Arrange  the yam pieces in the bottom of the baking dish.  Place the pear pieces between the yam slices. Pour the syrup over the yams and pears. Sprinkle salt and pepper lightly over the yams and pears.
6. Bake for 30 minutes,  occasionally basting the potatoes and pears with the syrup from the bottom of the pan.  (If desired, you can cool the baked dish and store in the fridge for up to 1 day at this point. Reheat at 300 degrees, covered.)
7. Sprinkle the chopped bacon and toasted pecan pieces over the top of the yams and pears, and bake for 5 minutes to heat the topping.  Serve hot.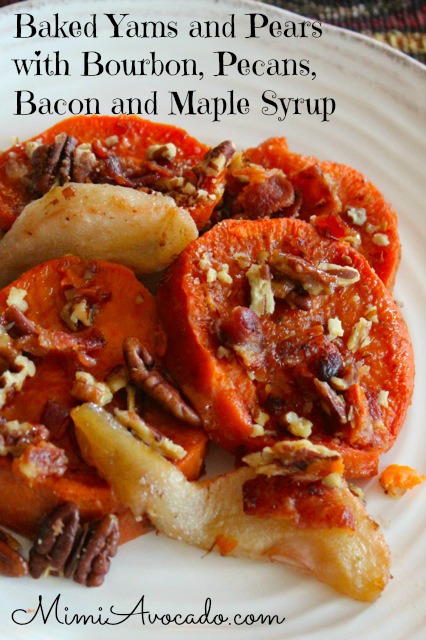 Want to win your own copy of Rick Rodger's
The Big Book of Sides

?

Just leave a comment on this post and tell me about one of the side dishes you always enjoy with a holiday feast.
Rules for the giveaway:
You must be a resident of the USA and be over 18 to enter. To enter, just leave one comment on this post  between Nov. 23 and midnight on Nov. 30th Pacific Standard Time. The winner will be chosen from a random drawing. I'll notify the winner by e-mail,  and I'll need a valid mailing address at that time. If I don't hear from the winner via e-mail within 24 hours of notification, I'll draw a new name and the new winner will have 24 hours to respond.  Winner will be chosen via Random.org.
NO PURCHASE NECESSARY TO WIN.
VOID where prohibited by law.
The Giveaway Item is provided by Ballantine Books.  All prizes will be awarded.
Not responsible for technical failures, typographical errors, or resolving identity disputes related to the winner.
Number of eligible entries determines odds of winning.
Disclosure:   I was provided with a copy of Rick Rodgers' book,  a bottle of Four Roses Bourbon, and other compensation for writing this post.  All opinions and experiences are my own.