We've been having a wonderful time with fresh California figs lately!  I'll bet you've been wondering if I would ever put those delicious figs together with avocados.  Well, this is the day!  What is easier than a fresh fig salsa?  How about a California Fresh Fig and Avocado Salsa? And not just any avocado either…we're eating scrumptious Reed avocados now!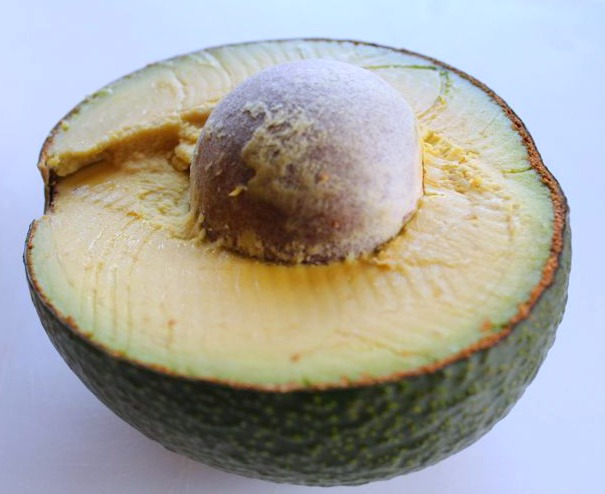 Have you ever seen a Reed avocado?  They're not often available in stores, but during the late summer these huge cannon-ball shaped beauties show up in farmers' markets all over Southern California.   What makes them special?  For one thing, the skin is thick and leathery, perfect to use as a natural bowl for guacamole!  In fact, you can just removed the pit,  slice up the avocado, add a little tomato salsa and eat it right out of the skin!  The nutty flavor  is what really sets Reed avocados apart…and a thick, meaty texture.  Perfect on top of salad or soups!    California Reed Avocados are a short-season variety, ready to eat between July and September.  We look forward to them all year!
It just so happens that fresh California figs are in season at the same time!  These beautiful Brown Turkey Figs were a gift from the California Fig Advisory Board, in anticipation of the California Fig Fest this weekend.     I just love the name of these plump little guys!
We've enjoyed these delicate figs in so many delicious ways!   Some of my San Diego food blogger friends have a California Fig Recipe Link-Up going on…check it out at the end of this post!
Salsa is so easy to make…for this one I just sliced the figs, avocado, tomato, onion…and that's it!  You could add some jalapeño pepper and fresh cilantro…but I wanted to taste the sweet figs with the full flavored Reed avocado.  Deelish! Pefect with crackers and cheese, or serve with grilled meats!
This Sunday you can taste all kinds of fresh California fig dishes!  Come out to Fig Fest 2013 at the San Diego Public Market, 1735 National Ave, San Diego, CA 92113.   From 4 pm until 7 pm  there will be gourmet food samples,  wines and craft brew from California's best chefs, food purveyors, wine makers and breweries.  Bring the whole family!
Check out these fresh California fig recipes and add your own to the list!